Ubuntu 8.04 is Coming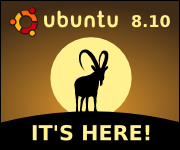 You know, I'm a big fan of Ubuntu Linux and using it on my aging HP compaq nx9005 laptop for my business needs just fine for more than 5 years now. I've been running it since its childhood and my drawers are still full of Live CDs they generously send to everyone free of charge.
Today, when I was looking for an updated Pidgin 2.4.1 package (currently I'm running 2.2.0), I happened to see the front page of the official Ubuntu site and guess what? It struck me on the head. 16 days left until the next release!
It made my day. I'm well-taught that every next release takes so much enjoyment that it would be fair to make it an official world-wide holiday. No kidding. :) It is much like every next Mac OS X version, but without an additional weight. You still can run the OS on your granny's i386, and do that comfortably. But if you have an up-to-date roaring monster under the hood, there's a plenty of options to keep it busy.
Enough words. Let's count out loud.
Comments from the past
Andrew Dashin Says: April 8th, 2008 at 18:30

And I'm already waiting for MacOSX 10.5.3, which is coming in the end of April :)
Aleksey Gureiev Says: April 8th, 2008 at 20:31

Yeah. I'm afraid it's not for Kate's (my wife) iBook G4. :D

Hopefully I'll get a top notch 17″ MacBook Pro for myself pretty soon as it's been a dream for too long. Probably the next purchase after the Ableton Live box.
R00KIE Says: April 9th, 2008 at 15:26

Yeah! I vote yes for the world-wide holiday. I'm using ubuntu here too on my laptop and desktop and i can't wait to put my hands in the final version of 8.04, specially to see if the pulse audio daemon can sort out my multi-card multiple outputs problem …. I'm not very a experienced linux (and ubuntu) user but sorting out what's what with sound is not easy. Anyway ubuntu kicks Vista on the rear side big time LOL, compiz rules :D